There's a Terrible New Plan to Tax Your Retirement – Help Us Fight It Today
December 13, 2019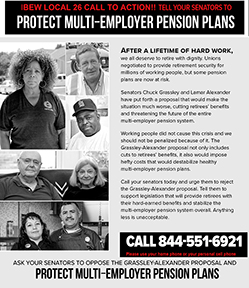 View Flyer
Senate Republicans are readying a radical plan to raise taxes on retiree pension benefits and put catastrophic burdens on union retirement plans, according to documents released last month.
Under cover of a "rescue" for a few endangered multiemployer pensions – primarily troubled Mineworkers and Teamsters plans – Senate Republicans are preparing to raise taxes on all retiree pension benefits by nearly 10% and raise expenses on healthy plans by 500%. The sweeping changes would almost guarantee reduction of benefits for millions of union retirees, IBEW members included.
International President Lonnie R. Stephenson called on every IBEW member to immediately contact their senators, whatever their party, and demand they kill the plan before it's even filed as legislation.
"Don't even negotiate," Stephenson said. "You already pay income taxes on your retirement benefits; now they want you to pay even more. This is a disaster for working Americans."
The changes would also reclassify the IBEW's green-rated National Electric Benefit Fund plan into red, endangered status and spell bankruptcy for many, if not all, local union-run pensions. Worse, by raising costs on healthy plans, the "rescue" would leave the pension system worse off than before legislators interfered.
Welcome to Local 26
Thank you for visiting the website of Washington, DC's International Brotherhood of Electrical Workers, Local Union 26. We have the best electricians in Washington, DC, Maryland and Virginia. Imagine a job in the electrical industry where you can earn while you learn. Electricians' jobs are some of the most technical jobs in America, and Local 26 provides the highest quality, technical training to its members. Here at Local 26, we believe in standing up for our members rights and always have their best interest in mind. Our staff of Business Representatives is here to help you when you need them.
https://youtu.be/ePvBO9QvEng